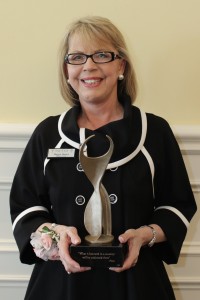 MT CLEMENS, MICH., May 10, 2018— The Macomb Foundation has announced the 2018 Winner for the prestigious ATHENA Award. The international ATHENA Leadership Award recognizes individuals who actively assist women in realizing their full leadership potential
Maggie Varney, Founder and CEO, Wigs 4 Kids and President and Owner of Go Green Salon.
Varney is a licensed cosmetologist and business entrepreneur. After perfecting her craft and achieving the highest level of recognition in the beauty industry as a national & international platform artist, this women was compelled to help Michigan children in need. In 2003, she took the initiative to form a local grassroots non-profit organization. This non-profit has earned the "Guidestar Platinum Award" and the Great Non-profits "Top-Rated" Award six years in a row thanks to this women's leadership and commitment to transparency. She not only mentors multiple employees, grooming them to be the best they can be, but she also invest her time and energy into helping young professional girls to learn & grow. She has a way of seeing qualities in others and bringing out what they may not see in themselves.
At every level through volunteering, business ownership, mentoring and being the voice for children in need, this women exemplifies the qualities of an ATHENA nominee.
Varney was selected from the nominees by a committee of past honorees: Debra Guido-Allen, Beaumont Hospital (2015), Mashell Carissimi, owner of JMC Electrical Contractor, LLC (2016), and Dr. Kim Getzinger, Beaumont Hospital (2017).
###
About the Macomb Foundation
As the sister organization to the Macomb County Chamber, the foundation works closely with business, civic and non-profit organizations to explore, plan and implement programs designed to broaden the role Macomb County plays in Michigan's overall economy.[/fusion_text]