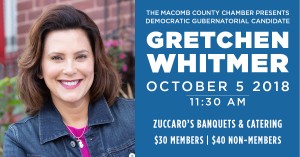 MT. CLEMENS, Mich., Sept. 24, 2018— Michigan Democratic gubernatorial Candidate Gretchen Whitmer will be in Macomb County on October 5th.
The Macomb County Chamber will be hosting Whitmer for an afternoon luncheon at Zuccaros Banquets Hall. Doors open at 11:30 a.m., lunch will be served at 12 p.m., and the program will start at 12:30 a.m.
Zuccaros Banquet Hall is located at 46601 Gratiot Ave, Chesterfield, MI, 48051
Tickets are $30 for members of the Chamber and $40 for non-members and are available on macombcountychamber.com or by calling 586-493-7600. Proceeds do not benefit the Gretchen Whitmer for Governor campaign.
Media covering the event with be provided lunch and a media packet.
###
About Gretchen Whitmer
Gretchen Whitmer is a mom, union member, former prosecutor, Senate Democratic Leader, and proud lifelong Michigander. As Senate Democratic Leader, Gretchen was the first woman to lead a caucus in the Michigan Senate where she negotiated with Republicans to expand Medicaid to more than 680,000 Michiganders. Following her service to the state, Gretchen taught at the University of Michigan and Michigan State University. In 2016, she stepped up to serve as the prosecuting attorney of Ingham County, restoring integrity to the office after a scandal forced the elected prosecutor to resign. As governor, Gretchen will focus on fixing problems that will actually make a difference in people's lives right now, like fixing the roads, making health care more affordable, cleaning up our drinking water, improving education and skills training, and repealing the retirement tax.