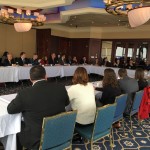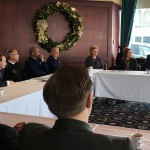 Tuesday's Military Affairs Committee agenda had one item: update from Michigan's top military leader.  Autonomous vehicles and accompanying infrastructure, F-35 Lightning aircraft, national military exercises being held in Michigan, and the 100th Anniversary Celebration of Selfridge Air National Guard Base were all topics of discussion.
Major General Greg Vadnais, adjutant general, Michigan National Guard, delivered an update to the Macomb County Chamber committee on December 20 and indicated 2017 could be a banner year for the defense industry and the military in Michigan.  The group, which usually numbers around 25, expanded its attendance at this month's meeting. Attendees included Senator Debbie Stabenow, Congresswoman Candice Miller, and Lt. Governor Brian Calley among more than 40 committee members, industry representatives, elected officials and military members, in what has become an annual update to the Committee from Vadnais.  The general stressed the importance of having all those present on the same page with regard to the Protect and Grow Strategy that Michigan is developing.
Lt. Governor Brian Calley, also present, encouraged the group to examine closely the strategy report in order to maximize efforts and investments.   "When we are all communicating from the same point of view, we're most able to highlight Michigan's assets and leverage opportunities for growth."
The Chamber's Military Affairs Committee was created only a few years ago with a vision of focusing a variety of community efforts into one concerted endeavor. The committee specifically has been working on providing advocacy of military policy, protecting local military installations from closure and promoting the growth of business in the defense community of southeastern Michigan.  Several members travelled to Washington, DC, in 2015 to meet with Michigan and defense-focused congressional delegates.
"This committee works hard to connect the many moving parts of the defense industry in our region," said Grace Shore, CEO of the Macomb County Chamber.  "We learn from each other, and in so doing, we build a stronger case for the defense industry and our military installations and missions here. When this many people contribute their knowledge and strategies there is a multiplier effect that is immensely positive for Macomb."
The Committee Chairman, Kevin Chandler, Dean of University Relations at Macomb Community College, agrees.  "Keeping up with all the entities who have defense interests in our area is challenging, however, it is very gratifying to represent their interests and see the growth and collaboration that our committee has helped cultivate."
General Vadnais was also joined by Major General Len Isabelle, head of the Michigan Air National Guard and Brigadier General John Slocum, commander of the 127th Wing, in briefing the group about the upcoming 100th Anniversary Celebration planned for Selfridge Air National Guard Base that will culminate with an Airshow and Open House in August 2017.
More information on Michigan's Protect and Grow strategy can be found at www.arsenalofinnovation.com/protect-and-grow/.