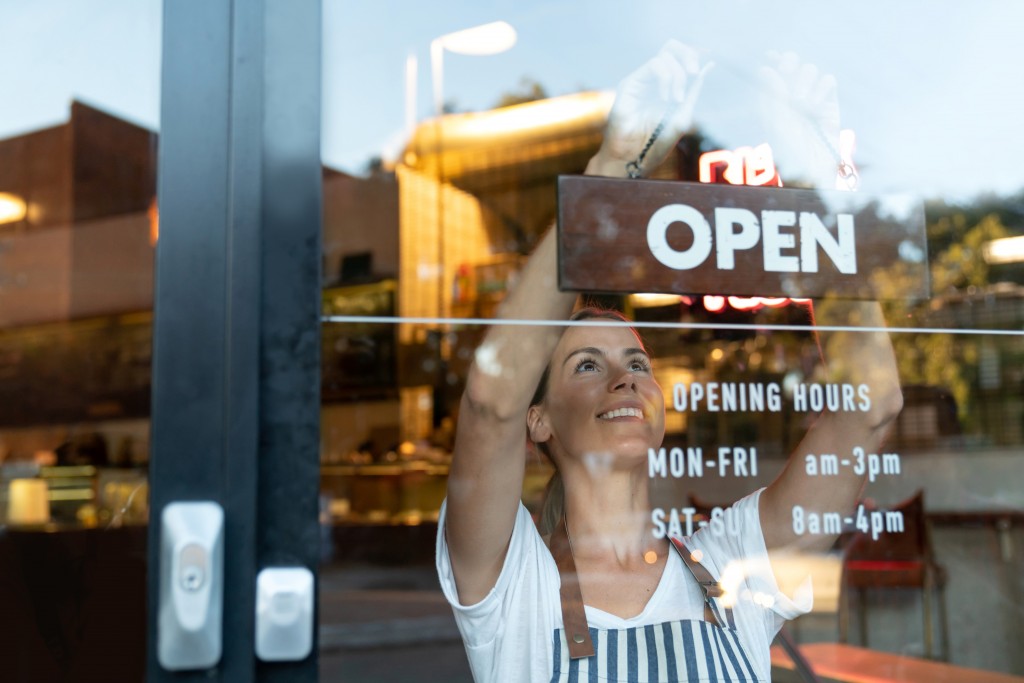 Resources to Reopen Your Business
This page is under development and will be updated regularly. Please check back often for new resources.
MACOMB COUNTY BACK-TO-BUSINESS KITS
We are pleased to provide personal protection equipment to help reduce the spread of COVID-19 for businesses as they prepare to open for business.
Depending on the number of people you employ, kits will include:
Reusable face coverings
Face shields
Touchless thermometer
Building signage
And other items to help make your workplace safer for employees and customers.
Kits will be available for pickup at a location in Clinton Township. More details to be provided in an email confirmation.
To request a back-to-business kit, please complete this form.
Paycheck Protection Program (PPP) Loan Forgiveness Guide

Under the Paycheck Protection Program (PPP), loans may be forgiven if borrowers use the funds to maintain their payrolls and pay other specified expenses. Click here to download this step-by-step guide to calculate your loan forgiveness amount, navigate record-keeping requirements, and determine repayment terms on amounts not forgiven. We hope you will share this new guide with your members.
Reopening Business Digital Resources Center
New Resource Added!
Last week, as part of the Path Forward initiative, the U.S. Chamber unveiled its Reopening Business Digital Resources Center to equip America's business community with the latest state guidelines, sector-specific guidance, small business advice, and other tools and resources as we look to reopen safely and keep employees and customers healthy and informed.
Now, the resources center also includes a customizable workplace flyer to help you and your members communicate the steps your company is taking to keep them safe and prevent the spread of COVID-19 to employees and customers.
Reopening Business Digital Resources Center Toolkit
In addition to the Reopening Business Digital Resources Center, and as you and your members face new questions and unprecedented new challenges, the U.S. Chamber has also created a comprehensive toolkit of key messages, example posts, and social media graphics for you to utilize while sharing the tools and resources with your local business communities and networks. 
Small Business Reopening Playbook
Now Available in Spanish! 
Considering that reopening strategies will largely depend on the state and business type, this guide has consolidated federal, state, and local guidelines, industry specific resources, insights and strategies from leading experts, and more.
The playbook is now available to download in Spanish—click here to learn more.
GENERAL WORKPLACE GUIDANCE
Topline Guidance
Construction sites must adopt best practices to protect their workers from infection, including designating a site supervisor to enforce COVID-19 control strategies and conducting daily health screenings.
Workers "necessary to the manufacture of goods that support workplace modification to forestall the spread of COVID-19 infections" to return May 7.
The real estate workers included in the order are agents, appraisers, brokers, inspectors, surveyors and registers of deeds.
Employee Screening Guidance
Construction sites must adopt best practices to protect their workers from infection, including designating a site supervisor to enforce COVID-19 control strategies and conducting daily health screenings.
Social Distancing Guidance
Maintain the six-foot physical distancing requirements.
PPE Requirements
Providing personal protective equipment such as gloves, goggles, face shields, and face masks as appropriate for the activity being performed.
Any individual able to medically tolerate a face covering must wear a covering over his or her nose and mouth—such as a homemade mask, scarf, bandana, or handkerchief—when in any enclosed public space.
Supplies of N95 masks and surgical masks should generally be reserved, for now, for health care professionals, first responders (e.g., police officers, fire fighters, paramedics), and other critical workers who interact with the public.
Cleaning/Sanitation Procedures
Increasing standards of facility cleaning and disinfection.
Vulnerable Population Accommodations
At least two hours per week of dedicated shopping time for vulnerable populations, including people over 60, pregnant women, and those with chronic conditions like heart disease, diabetes, and lung disease.
Reopening Your Offices
Develop Your Plan
Evaluate your workplace to determine what kinds of surfaces and materials make up that area. Most surfaces and objects will just need normal routine cleaning. Frequently touched surfaces and objects like light switches and doorknobs will need to be cleaned and then disinfected to further reduce the risk of germs on surfaces and objects.
First, clean the surface or object with soap and water.
Then, disinfect using an EPA-approved disinfectant

external icon

.
If an EPA-approved disinfectant is unavailable, you can use 1/3 cup of bleach added to 1 gallon of water, or 70% alcohol solutions to disinfect. Do not mix bleach or other cleaning and disinfection products together. Bleach solutions will be effective for disinfection for up to 24 hours.  Find additional information at CDC's website on Cleaning and Disinfecting Your Facility.
You should also consider what items can be moved or removed completely to reduce frequent handling or contact from multiple people. Soft and porous materials, such as area rugs and seating, may be removed or stored to reduce the challenges with cleaning and disinfecting them. Find additional reopening guidance for cleaning and disinfecting in the Reopening Decision Toolpdf icon.
It is critical that your plan includes how to maintain a cleaning and disinfecting strategy after reopening. Develop a flexible plan with your staff or family, adjusting the plan as federal, state, tribal, territorial, or local guidance is updated, and if your specific circumstances change.
Determine what needs to be cleaned
Some surfaces only need to be cleaned with soap and water. For example, surfaces and objects that are not frequently touched should be cleaned and do not require additional disinfection. Additionally, disinfectants should typically not be applied to items used by children, especially any items that children might put in their mouths. Many disinfectants are toxic when swallowed. In a household setting, cleaning toys and other items used by children with soap and water is usually sufficient. Find more information on cleaning and disinfection toys and other surfaces in the childcare program setting at CDC's Guidance for Childcare Programs that Remain Open.
These questions will help you decide which surfaces and objects will need normal routine cleaning.
Determine what needs to be disinfected
Following your normal routine cleaning, you can disinfect frequently touched surfaces and objects using a product from EPA's list of approved products that are effective against  COVID-19.external icon
These questions will help you choose appropriate disinfectants.
Are you cleaning or disinfecting a hard and non-porous material or items like glass, metal, or plastic?
Consult EPA's list of approved products for use against COVID-19external icon. This list will help you determine the most appropriate disinfectant for the surface or object. You can use diluted household bleach solutions if appropriate for the surface. Pay special attention to the personal protective equipment (PPE) that may be needed to safely apply the disinfectant and the manufacturer's recommendations concerning any additional hazards. Keep all disinfectants out of the reach of children. Please visit CDC's website on How to Clean and Disinfect for additional details and warnings.
Examples of frequently touched surfaces and objects that will need routine disinfection following reopening are:
tables,
doorknobs,
light switches,
countertops,
handles,
desks,
phones,
keyboards,
toilets,
faucets and sinks,
gas pump handles,
touch screens, and
ATM machines
Each business or facility will have different surfaces and objects that are frequently touched by multiple people. Appropriately disinfect these surfaces and objects. For example, transit stations have specific guidance for application of cleaning and disinfection.
Make a set of "no personal contact" rules
Limit handshaking, closed meeting spaces, hugging, or any other physical contact.
Questions to ask: 
Where is contact made between people in a normal situation?
Is contact necessary?
Is there any personal protection equipment (PPE) that my staff could use to reduce the transmission of infection for essential contact?
How and where can I post new no-contact rules to ensure my staff has read and understood our updated policy?
Encourage "no item sharing" when possible
This includes things like pens, staplers, notebooks, dry erase markers, desk space, file folders, computers, and anything else that can be assigned to individual workers and not shared. We recognize not all businesses will be able to afford a zero-tolerance policy of shared work tools, but where, within reason, a limiting of exposure to shared objects, caution should be made.
Questions to ask: 
What are the essential tools of my business? And who uses them?
Are there any high-risk staff whose job may increase their risk of infection?
Are there any PPEs that can help protect my workers?
What are the items my business can afford to supply all workers with?
How and where can I post new no item sharing rules to ensure my staff has read and understood our updated policy?
Reorganize your floor plan
What can you do to your work space that will maximize 6-foot distance between workers, customers, and visitors? Can you stagger workspaces? Adjust desks to point towards walls or office partitions?
Questions to ask: 
What are the essential needs for space for my business?
What are areas that are underutilized today?
Are there any superfluous areas now that folks need 6-feet barriers, and how can I reimagine those spaces to make room for today's needs?
What are we using ____, ____, ____ space for?
SECTOR-SPECIFIC GUIDANCE
Retail
Workers at retail stores who sell groceries, medical supplies, and products necessary to maintain the safety, sanitation, and basic operation of residences or motor vehicles, including convenience stores, pet supply stores, auto supplies and repair stores, hardware and home maintenance stores, and home appliance retailers. With Restrictions, garden stores and nurseries only
curbside pickup and delivery only for others.
Childcare
Child care workers (including workers at disaster relief child care centers), but only to the extent necessary to serve the children or dependents of critical infrastructure workers, workers who conduct minimum basic operations, workers who perform necessary government activities, or workers who perform resumed activities. This category includes individuals (whether licensed or not) who have arranged to care for the children or dependents of such workers.
Administrative Support, Waste Management and Remediation Services: (under development)
Construction:
Manufacturing:
Offices:
Restaurants:
Retail Trade:
Healthcare and Social Assistance:
Research:
Arts, Entertainment and Recreation:
The current list of Michigan based manufacturers and vendors who can take PPE-related orders.
Preferred Members: (Last Updated May 22)
A
B
C
D
Dearborn Area Chamber of Commerce – Contact: Jackie Lovejoy  @ (313) 584-6100 – Hand sanitizer, masks (local orders only)
Domico Med- Device, LLC – Contact: Bryan Teffner  @ (810) 750-5300 – Design and manufacture patient positioning solutions for healthcare applications, Sewing and sealing capabilities for PPE: face masks, face shields, and gowns, Fabrication and assembly capabilities for hospital beds and Patient mattresses manufacturing capabilities
F
Foresight Group  – Contact: Stacey Trzeciak   @ (517) 999-0044 – Signage, sneeze guards, cashier shields, clear partitions, sanitizer stations, masks, gloves
H
L
M
Milton Manufacturing  – Contact: Jim Green   @ (313) 366-2450 – Custom Manufacturer with diverse capabilities capable of handling prototype to production, industrial sewing, metal fabrication, stamping, machining & assembly
Model Coverall Service, Inc.  – Contact: Jon Subar   @ (800) 968-6491 – Commercial Laundry Service, Personal Protective Uniforms, Restroom Supplies: Toilet Paper, Hand Soap,Hand Sanitizer, Cleaning Chemicals and Disinfectant, First Aid Cabinets and Supplies, Safety Equipment, Gloves, Safety glasses etc.
N
O
P
Q
Quality Discount Disposables,   – Contact: Justin Wexler  @ (734) 828-4918 – Infrared thermometer with employee recognition, sanitizer solution and concentrate and gel and dispensers, gloves, masks, gowns, bouffant caps, shoe covers, face shields, coveralls, lab coats and vests, germicidal wipes, bleach, Infrared thermometers, paper towels and dispensers, Lysol, and goggles
R
S
T
Total Security Solutions – Contact: Tina Fuson   @ (517) 223-7807 -VirusGuard Sneeze Guards, cashier shields, clear partitions
Tramec-Sloan – Contact: Kevin Allman @ (800) 333-7890 – Frontline Safety Shields – This clear, freestanding counter top divider is used to separate individuals during unavoidable face-to-face interactions
V
As more and more industries re-open there are a multitude of guidelines to help you with the new regulations. If you don't see what you need below, just let me know.